Energy is something that is easily taken for granted. Choosing an energy supplier was once tasked to the local government. The single-distribution source made it not only possible, but very simple for electric companies to raise energy prices and create a monopoly in their territories.
Deregulation is the ability for you, the consumer, to choose who your energy supplier will be. This not only gives consumers the power to switch distributors whenever they see fit, but forces suppliers to offer competitive rates and differentiate their products to be more marketable.
Deregulation does vary from state to state; local governments are ultimately in charge of approving deregulation and giving residents the opportunity to choose their own providers. The degree of deregulation also varies by state. Some states are fully deregulated for both gas and electric, while other states are only deregulated for one service or another. Still other states still do not allow any type of deregulation, and insist upon a monopoly in gas and electric distribution.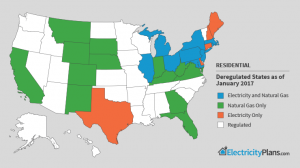 As shown in the map above, energy deregulation is becoming increasingly popular in the northeastern portion of the United States, and is slowly working its way south and west. So, what does all this mean for you?
Deregulation gives you the power to choose your own energy supplier. However, that power loses its luster when consumers don't fully understand the nuances of each company. Choosing an energy supplier, especially for a whole business, can be overwhelming and even frustrating at times. That's where UEA comes in.
UEA takes all the guesswork out of choosing the right energy supplier for your business. We understand that energy is a tricky business; what may sound like a great deal could be potentially crippling to a business if it isn't the right supplier.
Don't let your business fall into the trap of choosing the wrong energy supplier; contact UEA and speak to one of our knowledgeable Energy Advisors today! Visit our web site at www.unifiedenergyalliance.com, give us a call at 717-889-5706, or send us an email at info@unifiedenergyalliance.com.  We look forward to working with you!